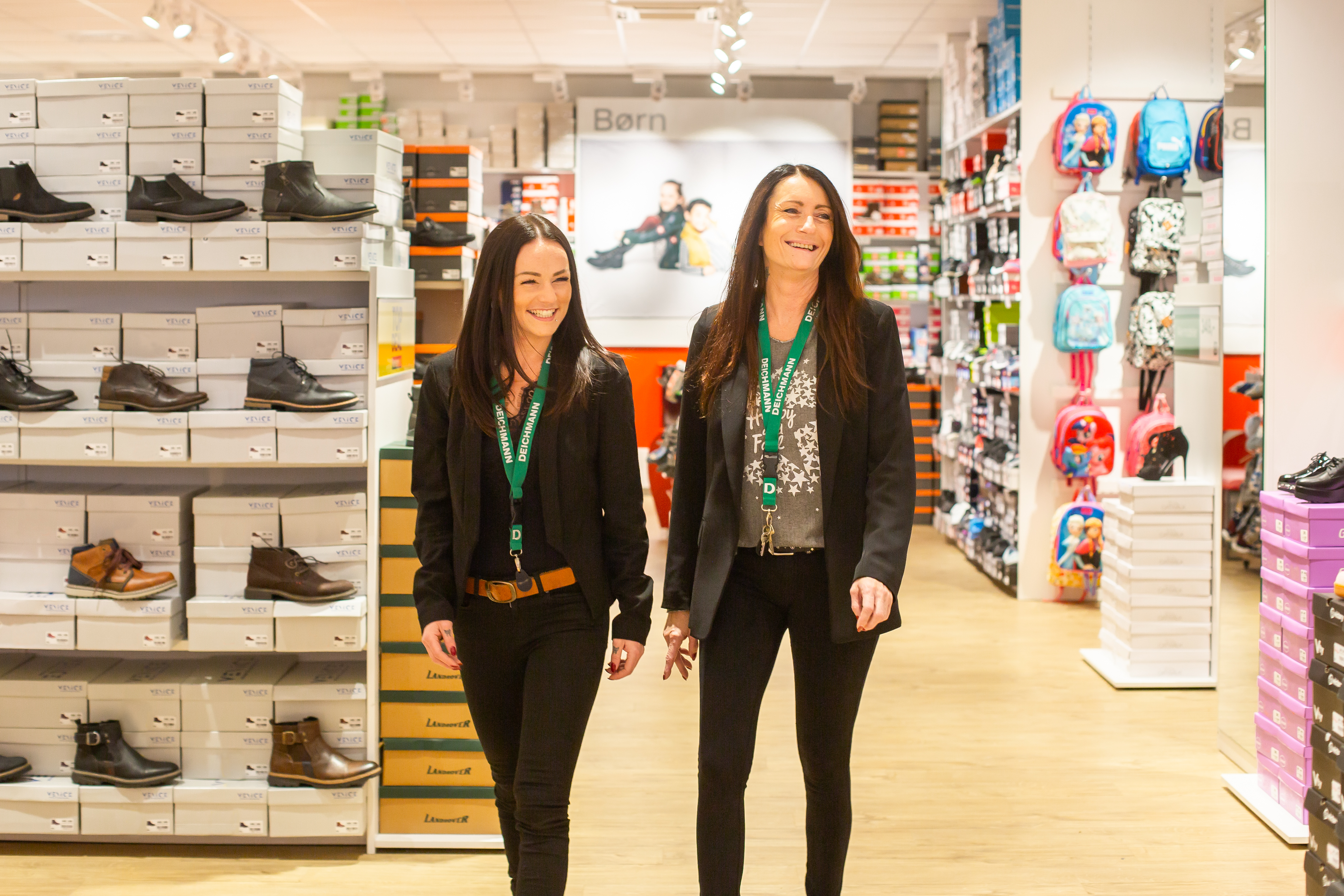 Deichmann Sko as a workplace
Here you can see further ratings of workplace conditions. Note that the ratings in the categories appear separately from the overall rating score, which is a category of its own.
When employees rate current or previous workplaces they award them within a number of categories. But the meaning of words is often interpreted differently and so we have briefly explained the intended meaning of the categories below:
Management is your rating of top management and middle management as well as management credibility.
Culture and meaning is your rating of company culture and values as well as your experience of a meaningful job.
Career opportunities is your rating of the opportunities to advance and empower your career.
Reward is your rating of the level of rewards and recognition of your work.
Work environment and balance is your rating of the working environment and experienced work-life balance.
Cooperation and relations is your rating of the community spirit and of working with colleagues.
Are you or have you been employed at Deichmann Sko?
As a current or former employee, you can also tell us what you think about working at Deichmann Sko.
Remember that even though you are logged in, your rating is 100% anonymous to the employer
VI LEVER
KØBMANDSSKABET
Hos Deichmann tager vi effektiv og tidsbesparende kundeservice til næste niveau. Det er nemlig vores medarbejderes fineste opgave at præsentere alle sko pænt, så vores kunder uden problem kan finde den rigtige størrelse, farve og model. Dét er godt købmandskab for os.
TAG ET SKRIDT
OPAD
Din salgskarriere starter hos Deichmann. Vi ansætter løbende elever og trainees, og uanset din baggrund giver vi dig mulighed for at stige i graderne.

Hos Deichmann tror vi på vores salgstalenter, når vi møder dem, og vi udvikler hellere end gerne vores egne.
BLIV EN
VÆRDIFULD

DEL AF ET FAMILIEEJET FIRMA

Det hele begyndte i 1913 i et arbejderkvarter i Essen-Borbeck i hjertet af Ruhr-distriktet, Tyskland. Heinrich Deichmann åbnede en skomagerbutik, som han drev sammen med sin hustru, Julie. To generationer og mere end hundrede år senere har vi udviklet os til at være førende på det europæiske skomarked. Ligesom dengang er virksomhedens mål fortsat at tilbyde sko af høj kvalitet til gode priser.

I Danmark har vi butikker i hele landet og op mod 300 medarbejdere. Med vores store udvalg af sko til alle aldersgrupper kan vi tilbyde et stort sortiment med sko til enhver lejlighed.
VI HAR DET
SJOVEST

, NÅR VI HJÆLPES AD I FLOK

Du kan se frem til en meget synlig ledelse i din hverdag, hvor du samarbejder tæt med både butikschefen og den assisterende butikschef, der er næsten lige så meget på gulvet som dig. Det styrker nemlig vores teamånd og effektiviserer vores daglige arbejde, når alle giver en hånd med.

Glæd dig til en hverdag med gode kolleger og et tæt sammenhold – særligt mange af vores unge medarbejdere nyder at bruge tid sammen i deres fritid.
VI

TAGER GODT IMOD

DIG

Når du starter hos Deichmann, har du masser af læring og spændende udfordringer i vente. Du får en træningsplan, så du bliver godt klædt på til din nye hverdag hos os.

Vi byder dig velkommen som en del af vores team og sætter pris på dit bidrag til vores fælles succes.
ER DU KLAR TIL
NYE SKRIDT

?

Hvis du er vores næste handlekraftige og selvstændige salgsassistent, så hører vi meget gerne fra dig.

Tjek dine muligheder på vores karriereside her.
Annual report for Deichmann Sko
Annual report for Deichmann Sko
Registered name
DEICHMANN-SKO ApS
VAT number
DK27278388
Type of business entity
Anpartsselskab
Established
2003
Number of employees
200 - 499
---
| Annual report | 2013 | 2014 | 2015 | 2016 | 2017 | 2018 | 2019 |
| --- | --- | --- | --- | --- | --- | --- | --- |
| Currency | DKK | DKK | DKK | DKK | DKK | DKK | DKK |
| Turnover | | | | | | | |
| Gross profit | 48,952,000 | 53,952,000 | 65,672,000 | 57,644,000 | 63,564,000 | 73,353,000 | 58,636,000 |
| Annual profits | -8,547,000 | -4,307,000 | 1,949,000 | 2,735,000 | 7,748,000 | 14,679,000 | 3,240,000 |
| Net assets | 60,562,000 | 56,258,000 | 58,207,000 | 60,942,000 | 68,690,000 | 83,369,000 | 86,609,000 |
| Balance | 94,091,000 | 82,055,000 | 78,128,000 | 86,502,000 | 96,231,000 | 100,438,000 | 105,703,000 |
Ad statistics for Deichmann Sko
Here is an overview of job ads from Deichmann Sko. You can see which channels and regions the ads were placed in and how the number of posted job ads have changed for each quarter.
---