LM Wind Power
LM Wind Power – let your work touch every major wind market
At LM Wind Power, we change the world through the power of wind. Today, 1/5 of wind turbines worldwide have our blades. But if you take a walk with us down memory lane, we started out in 1940 as – drum roll – a furniture factory in Lunderskov, Denmark. A long way from the massive composite structures LM Wind Power produces today.
By the 1950s, our founders experimented with glass fiber, which allowed us to make state-of-the-art… motorboats! Fast-forward to today, the intrinsic knowledge of advanced materials and a hard-earned understanding of the principles of wind energy help us maintain our position as a market leader in wind turbine blades.
Today, we are owned by General Electric but still choose to honor our founders in Lunderskov Møbelfabrik. We are LM Wind Power.
Gain over 11,000 new colleagues
Together, we develop the world's longest, most technologically advanced blades, and our global footprint spans every major wind market.
We are proud that colleagues from around the globe form the foundation for our success through collaboration, a helpful hand and a playful approach to work. We all simply look after each other. And it shows, as many colleagues have been with us for a long time.
Knowing this, we want to enable each individual to shine and – as one colleague put it – discover the world through their work. We would like you to enjoy a rewarding career – without compromising your free time. There simply has to be room for you to be who you are and to enjoy your life.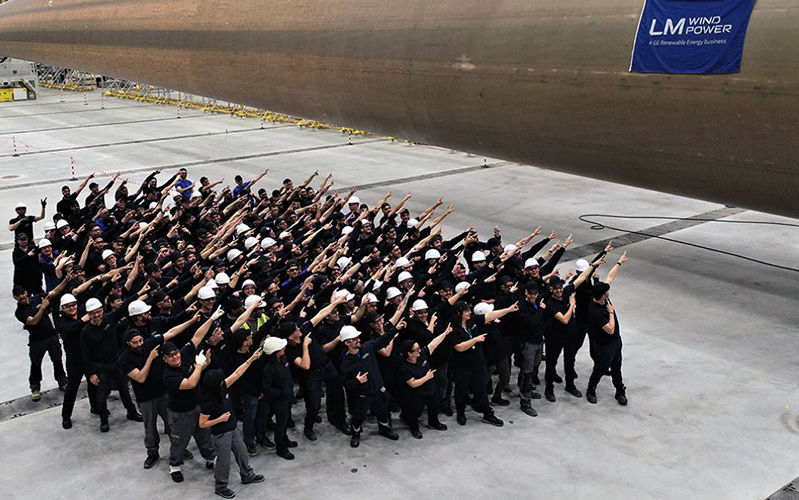 An inspiring work environment cultivates knowledge
Knowledge is our most important raw material, and we make every effort to cultivate it. We strive to provide a safe, interesting and inspiring work environment where your growth and well-being is a constant focal point. We encourage you to take chances instead of being ruled by the fear of failure and empower you to unfold your potential.
Being a Danish organization with an American owner, we open up the world to you, and you will collaborate with colleagues who are among the best in the world within their field. Our aim will always be to bring together a diverse group of people, where all our differences come together and unlock new opportunities.