Trendhim ApS
About us
Trendhim designs accessories for men and sells directly to consumers online. Helping men express themselves and tell their story. With more than 10,000 products we help customers in more than 25 countries and 18 languages. We send out more than 1 million packages each year and more than 100.000 browse our website every day.
We've grown from a dozen employees to 100+ in a few years and were awarded the Børsen Gazelle 7 years in a row. That's the success story you'll help us build upon. We have great ambitions to continue the ambitious growth journey, while maintaining and developing the strong entrepreneurial spirit that clearly permeates the company. You will be taking part in a young talented team in an action-focused and flexible company that values challenges, responsibilities and the opportunity to leave your mark.
Read more about our story and in our Atlas to see what makes us tick and to get to know us even better.
Why work at Trendhim?
Trendhim is a scale-up. Despite 15 years of experience in our field and super-fast growth, at our core, we're still as fast, limber, and free as any startup. The first thing you'll notice when you enter the door at Trendhim is the casual, youthful energy that permeates the office.
Trendhimmers come from all over the world, which lends a dynamic and flowing vibe to our culture. Our multicultural backgrounds mean you'll have access to unique and diverse perspectives on any problem.
The sound of laughter regularly echoes through the building, and we put more emphasis on culture than diplomas. This way, we make sure people actually enjoy each other's company, value one another's opinions, and care about our collective success. Social arrangements are quite frequent, both official and staff-organized, and we strive to take the best care of each other.
You'll get the equipment you need to get the job done, whether it's a 49" monitor, a walking pad, ergonomic mouse, or loud-as-hell noise-cancelling headphones. Ask, and you'll receive (within reason).
We know that you've worked hard to get where you are and are fully aware that you know your field better than we do.
'Yes' is our favourite word, and you'll hear it a lot. Freedom to grow means freedom to make mistakes, and as long as you learn from them, mistakes are welcomed.
What matters to us is growth — yours, not just ours. We know that we're only as good as the sum of our parts and for us to get stronger, every link must be nurtured.
Who and what Trendhim is isn't set in stone. You'll have an opportunity to help us define that through your influence on us, just as we hope to help you grow.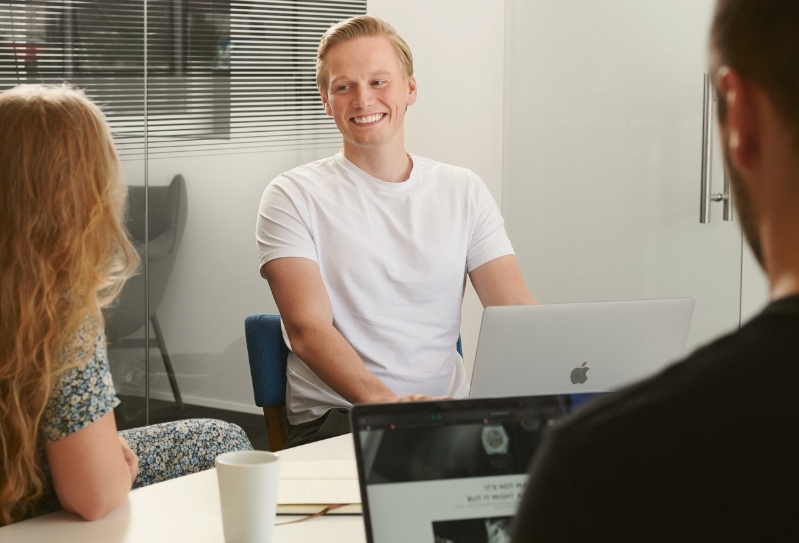 PUT ON YOUR ROCKET THRUSTERS 🚀
Instead of spending our time checking out the competition (ain't nobody got time for that), we ride the rocket doing our own thing. Not that we can't get inspired or learn from others' mistakes. But we mostly look inward, striving to improve ourselves way past the bar.
GROW AS A PERSON 🤹
Request any book, course, gear or tool, and you'll most likely receive it. As a fast-growing company, we consider challenges as an opportunity to learn around smart and passionate team members. We believe you should spend 2 to 10% of your time adding fuel to your individual field of work. That's how new ideas launch.
FLAME ON 🔥
With too little energy, too modest goals, our visions will never get off the ground. People on fire make things happen, push the company and inspire their colleagues. We are picky, but once you're onboard the Trendhim rocket, we trust you and give you responsibilities. Create your own tasks and projects and take the lead when needed. If you grow, Trendhim grows.
(INTER)STELLAR WORKPLACE 🤣
We strive to create a gravitational pull strong enough to attract and retain incredibly talented individuals. This means high standards on a great team. Trendhim wants to empower people to do their best work while having a blast. And if that means organising more lunch clubs, Friday bars or canoe tours, then that's what we do.