Storm Group
Storm Group – vi brænder for marketing og mennesker
Hos Storm Group er vi karakteriseret af masser af initiativ og et konstant ønske om at vokse – både som mennesker og virksomhed. Derfor har vi også plads til dig. Både dig, som ønsker at lære salgshåndværket fra bunden, og dig, som måske drømmer om at gå ledervejen.
Vi er et førende direct marketing-bureau, der udvikler og leverer banebrydende salgs- og marketingkampagner. På landsplan er vi 100+ kreative kræfter, brandambassadører og ledere, der brænder for de brands, vi repræsenterer – fra kommercielle til ikke-kommercielle. Det kan du læse mere om her. Det kan du læse mere om her.
Udvikl dit salgs- eller ledelsestalent hos os
Vil du have guld på CV'et? Det får du selvfølgelig (også) hos os. For her deltager du i vores interne udviklingsprogram, hvor du kommer til at dygtiggøre dig inden for salg, kommunikation og ledelse og får værdifulde kommunikative værktøjer. Du bliver altså klædt godt på til dit arbejde hos os, mens du også kan bruge værktøjerne i din fremtidige karriere.
Hos os starter du som salgskonsulent og har efterfølgende mulighed for at udvikle dig til at blive salgscoach eller måske regionschef eller salgsdirektør. Vi lader nemlig ikke din baggrund og erfaring definere dit potentiale og dine muligheder.
"Dine mål og din vilje til at lære er grundlaget for din – og vores – udvikling. Og så skal du glæde dig til at blive en del af en virksomhed, hvor der er plads til at begå fejl og lære henad vejen." – Niklas Hedehus, Head of Recruitment.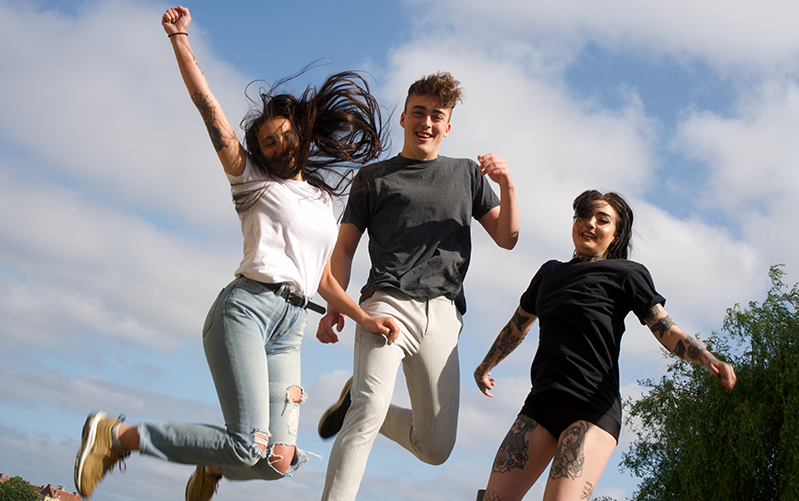 Bliv en del af det fedeste sociale fællesskab
Du træder ind i et udadvendt, dynamisk miljø, hvor humor, udvikling og sammenhold er det, der driver os.
Så uanset om du arbejder på vores kontor i København, Århus, Odense, Aalborg, Roskilde, Herning eller Esbjerg, kan du glæde dig til sjove lokale events – fra pizzafredage til beerpong-turneringer. Og så samles vi 2 gange årligt til et heldagsarrangement med spændende faglige indslag, hvor vi slutter af med gallamiddag og fest.