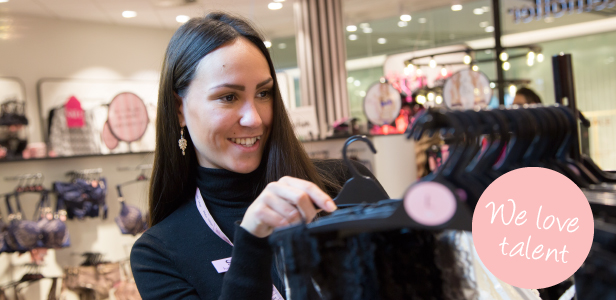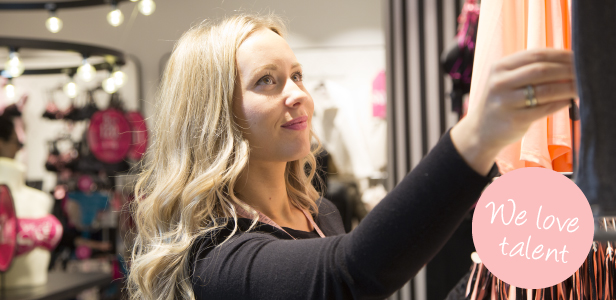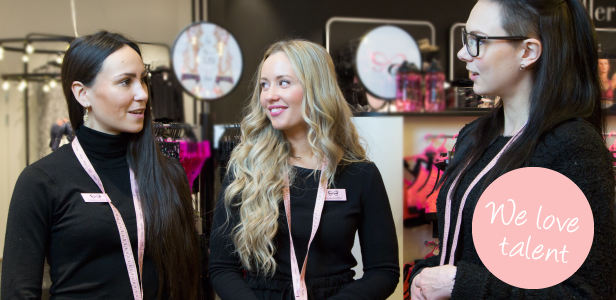 Hunkemöller as a workplace
Here you can see further ratings of workplace conditions. Note that the ratings in the categories appear separately from the overall rating score, which is a category of its own.
When employees rate current or previous workplaces they award them within a number of categories. But the meaning of words is often interpreted differently and so we have briefly explained the intended meaning of the categories below:
Management is your rating of top management and middle management as well as management credibility.
Culture and meaning is your rating of company culture and values as well as your experience of a meaningful job.
Career opportunities is your rating of the opportunities to advance and empower your career.
Reward is your rating of the level of rewards and recognition of your work.
Work environment and balance is your rating of the working environment and experienced work-life balance.
Cooperation and relations is your rating of the community spirit and of working with colleagues.
Are you or have you been employed at Hunkemöller?
As a current or former employee, you can also tell us what you think about working at Hunkemöller.
Remember that even though you are logged in, your rating is 100% anonymous to the employer
Om os
Hunkemöller, oprindeligt en hollandsk virksomhed, er det største high street-lingerimærke i Benelux. Med ca. 4.500 medarbejdere og 720 butikker i 16 lande ekspanderer Hunkemöller hurtigt i Europa. Faktisk åbner vi i gennemsnit 1 butik om ugen. I øjeblikket har vi butikker i Holland, Belgien, Luxembourg, Frankrig, Tyskland, Danmark, Saudi-Arabien, Egypten, Spanien, Aruba, Curacao, Rusland, Sverige, Østrig, Indien, Marokko og Bahrain.
Vores interne designteam arbejder nonstop med produktinnovation og produktudvikling. De sikrer, at kollektionerne følger de nyeste trends inden for lingeri, og at kvalitet og pasform er i top.
Se vores job-video og vores salgselev-video herunder, og læs mere om at arbejde hos os på hunkemoller.com/jobs/dk
Værdier
Vores medarbejdere, vores værdier og vores måde at arbejde på, definerer hvem vi er og er i centrum for alt, hvad vi gør.
Passionate:

Dette er hjertet i alt, hvad vi gør. Vi er passionerede omkring lingeri og World Class Service

In Touch:

Dette er vores ånd. Vi lytter, interagerer og involverer andre ved at tilbyde det bedste

Inspiring:

Dette er vores motivation. Vi er kreative og tænker ud af boksen

Fun:

Dette er vores attitude. Vi nyder det, vi laver, og det kan ses

Sexy:

Dette er vores look. Vi har selvtillid og er stolte af vores brand
Passer vi til hinanden
Foretrukne egenskaber
Det er både de personlige og teamets bidrag, der betyder, at vi opfylder vores mission om at være den største lingerispecialist i Nordeuropa. Hos vores kollegaer i butikkerne er de "Fortrukne Egenskaber":
Customer First -

sikrer, at World Class Service er omdrejningspunktet for alt, hvad vi foretager os

Deliver Performance -

tilstræber hele tiden at overgå de forventede resultater, opildner, inspirerer og giver andre energi til at opnå mere

Developing Self & Others -

er personligt engageret i at udvikle sig selv og andre til at være den bedst mulige udgave af sig selv

Working With People -

forstår vigtigheden af, at teamet arbejder sammen, deltager aktivt og deler ubetinget ud af sin viden
Hunkemöller er et fantastisk sted at arbejde. Vi er meget engagerede i det vi beskæftiger os med, og vi arbejder hårdt, men vi har det samtidig SJOVT. Vi hjælper dig til at være den bedst mulige udgave af dig selv, og til gengæld leder vi efter mennesker som er passionerede omkring kundeservice, tilstræber at levere deres bedst præstation hver gang, kender og udvikler sig selv og vil være del af et team i verdensklasse.
Vi er et sted for mennesker med en passion for betjening af kunder og levering af World Class Service: et sted for mennesker, som vil vokse, være vores fremtidige stjerner og have mulighed for at udvikle både sig selv og deres team.
So Social
For os er det vigtigt at være synlige, aktive og tilgængelige på de sociale medier, om det er Facebook, Instagram, Twitter, Snapchat eller vores egen So Me blog. Desuden har vi vores Hunkemöller App samt vores In Touch App, hvor vi deler informationer med kunder og medarbejdere.
Fordele
Hos Hunkemöller tager vi os godt af vores medarbejdere. Vi mener at det er vigtigt, at du føler dig værdsat og korrekt behandlet. Dit velbefindende er afgørende for vores succes.
The Hunkemöller Academy
Vi ansætter ud fra holdninger og uddanner til færdigheder. Vi opbygger et brand, som anerkender indsats, belønner succes og opfordrer til handlekraft på alle niveauer.
Vi hjælper med at udvikle dit talent med uddannelse og coaching, regelmæssig feedback og e-learning-moduler, som omfatter et bredt udvalg af uddannelsesemner, der er praktiske og lette at bruge.
Der vil altid være muligheder for at udvikle din karriere hos Hunkemöller, uanset om det er fra salgsassistent til butikschef eller fra elev til chef for markedsføring og kommunikation.
Vores grundløn og personalegoder er konkurrencedygtige. Vi giver også vores personale en generøs medarbejderrabat.
Retail Talent Program
Vores Retail Talent Program er vores interne uddannelse for at udvikle vores dygtigste butiksbestyrere til distriktschefer. Vi tog holdet med til London for en inspirerende og stimulerende Retail Safari. Se videoen herunder for at finde ud af, hvad de fik ud af det!
Annual report for Hunkemöller
Annual report for Hunkemöller
Registered name
HUNKEMöLLER DANMARK A/S
VAT number
DK30346718
Type of business entity
Aktieselskab
Established
1970
Number of employees
340
---
| Annual report | 2014 | 2015 | 2016 | 2017 | 2018 | 2019 | 2020 |
| --- | --- | --- | --- | --- | --- | --- | --- |
| Currency | DKK | DKK | DKK | DKK | DKK | DKK | DKK |
| Turnover | | | | | | | |
| Gross profit | 34,643,000 | 39,079,000 | 44,902,000 | 47,114,000 | 53,336,000 | 64,400,000 | 70,342,000 |
| Annual profits | 1,479,000 | 2,264,000 | 2,293,000 | 3,182,000 | 2,896,000 | 1,306,000 | 1,357,000 |
| Net assets | 24,591,000 | 26,854,000 | 29,146,000 | 32,328,000 | 35,225,000 | 36,531,000 | 37,887,000 |
| Balance | 37,474,000 | 42,023,000 | 49,827,000 | 77,847,000 | 78,489,000 | 103,898,000 | 87,194,000 |
Ad statistics for Hunkemöller
Here is an overview of job ads from Hunkemöller. You can see which channels and regions the ads were placed in and how the number of posted job ads have changed for each quarter.
---